Pizza!!! Who doesn't like a good Pizza? We are lucky enough in Grand Haven to have lots and lots of options for Pizza and I'll go through the best ones. As good as chain pizza places can be, I don't touch on any of them here though we do have plenty of those as well. Here are our Top 9 Best Pizza places in Grand Haven, MI. If you are looking for other takeout foods, take a look at our Top 10 Best Takeout Restaurants in Grand Haven Blog.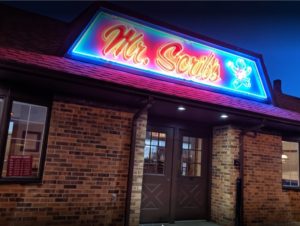 1.) Let's start with my personal favorite Pizza in town, though to be honest, its a very close fight that can switch depending on the day. First is Mr. Scrib's pizza in Grand Haven. The Mr. Scrib's name has been around for over 50 years starting in Muskegon, Michigan right up the road. There are 5 locations and 3 are still family run. The restaurant makes their pizza dough fresh every morning and uses a sauce they make in-store and a secret blend of four cheeses. As is the case with most of the pizzas in Grand Haven, thin is the name of the game. The toppings cover the whole pizza and you will find minimal crust and a square cut to the round pizza. As much as I am a meat lovers guy of person, this was one of the first places I can truly say I liked the Veggie pizza. It has to be that sauce, seasoning, and cheese. Mr. Scrib's offers delivery which is great for guests staying in the area or at one of the Beachfront hotels like Looking Glass Beachfront Inn. Amazing pizza on the deck with a beautiful sunset? Yes, Please! P.S., don't be surprised when its served in a bag, not a box.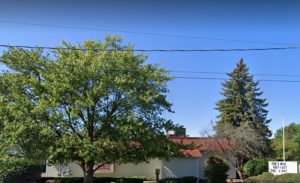 2.) The Original Clover Bar  is next on the list though depending on the day, could be my top choice. Clover has been around since 1963 and is a very similar to Mr. Scrib's in a lot of ways but yet, just different enough. Clover is available for dine in or carryout depending on your preference. On Thursday nights, they also do a pasta night with Spaghetti and Lasagna on the menu. If Pizza isn't your favorite, they also have sandwiches available. But now more about the pizza. Its ooey, its gooey, its greasy in all the right ways. Its also thin and also square cut. Toppings are plenty and the cheese is stringy and all over. Its pretty much just what you think of when you are thinking of pizza (unless you're from Detroit, Chicago, or New York). I personally go for the Deluxe or the Meat Supreme but whatever you decide, you will be happy with your choice.  This one also comes in a bag which is a theme in the area.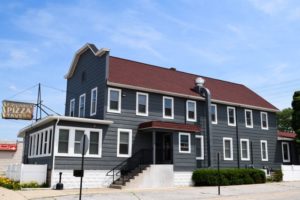 #3.) Next on the list is Fricanos Pizza Tavern. Fricano's is the Godfather of Pizza in town. Potentially even in Michigan. It is one of the most popular pizza places and has the longest tradition. In fact, according to the website, "In 1949 the late Cosimo (Gus) Fricano, founded what is believed to be the first pizzeria in Michigan, Fricano's Pizza Tavern, in Grand Haven with the original thin crust pizza pie." Fricano's are more of the traditionalist. You have the choice of 5 toppings: Italian Sausage, Pepperoni, Mushroom, Green Pepper, and Anchovy. You can get the EBA (Everything but Anchovy), the Everything, A Cheese Pizza, or a Pepperoni Pizza. What Fricano's lacks in choice and options, they make up for on history and taste. Its thin, its crispy yet doughy, and its delicious. We have lots of guests that come to Grand Haven knowing a trip to Fricano's is on their list! Just a good old pizza from a place that may have started the pizza craze in Michigan. I won't argue with that one bit and neither do the thousands of fans around the country!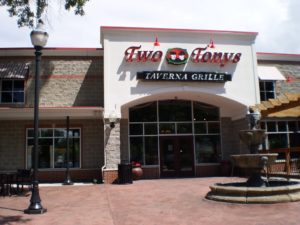 4.) Next up is from one of our favorite restaurants in the area making our list of Top 10 Best Restaurants in Grand Haven. Two Tony's Italian Kitchen in Spring Lake, MI is a great place for that special occasion such as anniversaries, birthdays, or just a great night out. Although all their food is amazing and worth going for the 10 layer lasagna, Spaghetti & Meatballs, Risotto and famous house bread with feta spread, the pizza is Amazing as well. In fact, its so good that I have a hard time between the Lasagna and Pizza when I am there. The Signature with Italian sausage, pepperoni, ham, salami, bacon, green pepper, onion, mushroom, and green olive is my go to here. They have plenty of other excellent choices including the Sicilian, Margherita and the Garlic Chicken. The last one is topped with a Seasoned garlic buttered crust, grilled chicken, artichoke heart, fresh basil, red onion. They have some fantastic appetizers as well including the Italian Eggrolls,  Calamari, and Coconut Shrimp to start with as well. Pair these great pizzas with an extensive beer, cocktail, and wine list and you have a great evening on your hands.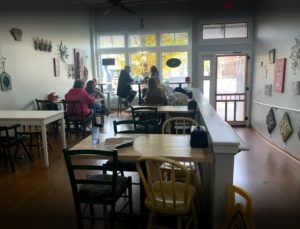 5.) Rustic Roots in the heart of downtown is quickly becoming a hometown favorite as well. I keep hearing raving reviews from guests about their pizzas and for good reason. Using a Tuscan style dough that is flash fired in an 800 degree oven, you get an amazing crust which is a perfect home for the fresh ingredients used to make "Traditional" or "What The" combinations that will work for anyone. Margherita, Old School, and Carnivore top the "Traditional" list. In the "What The" category are things like the SUPER SUSHI consisting of Cream Cheese, Imitation Crab, Ahi Tuna, Mushrooms, Cucumber, Soy Sauce and Spicy Mayo Drizzle. Sometimes the strangest sounding things just flat out work. And this is one of those. Rustic Roots has also known as a go to place for healthy options as well as options for those with dietary restrictions. Their pizza is an example of that with options for Gluten free or Cauliflower crusts. They also have lots of options for Wraps, Quinoa bowls, Soups, Salads, and Smoothies. Rustic Roots will definitely make everyone in your party happy from the health conscience to the not so much.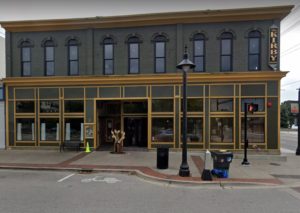 6.) Next on our list of Top 9 Best Pizza places in Grand Haven is part of the Kirby Group that includes Kirby Bar & Grill, Grill Room at Kirby, Dark Room and K2 pizzeria. K2 is a Pizzeria on the second floor of the Kirby Bar & Grill and is a game room including pool tables and arcade games and is home to delicious wood-fired pizzas. Wood fired pizzas add a nice sweet and smoky flavor to the pizza that should certainly be tried if you have not had it before. And if you have tried it? You know you want it again. K2 also has a roof top deck with views of the channel and Lake where you can enjoy all the deliciousness of their pizzas with a beer or drink. Catch it just right and you may see one of Grand Haven's famous sunsets as well. Because they are part of the Kirby and above the Bar & Grill, there are other options if you are not just looking for Pizza. But if you are, you will definitely not be disappointed.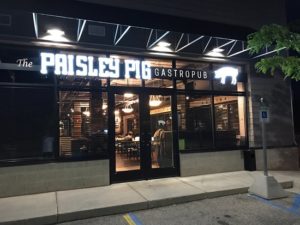 7.) If you aren't sure what you are in the mood for someone in your party wants pizza, then Paisley Pig of Grand Haven is for you.  Paisley Pig is a farm to table style Gastropub with amazing pizzas. Although the name would suggest they are a Barbeque place, don't be fooled as they have about everything. And its all good. And locals will also tell you that the Artisan Pizzas are worth the trip as well. "I like pig butts and I cannot lie (Pulled pork, ghost pepper cheese sauce, peppadew peppers, scallions, bbq alfredo drizzle)" and "Take Me Out To The Ballgame (Sliced Michigan made hotdogs, Schuler's cheese, crushed pretzels, honey mustard)" are a couple of guest favorites we would recommend. If you are looking for something a little more traditional, they offer a build your own pizza option with 8 sauces, 9 cheeses, and countless topping combinations. Yeah, they are serious about the Artisan part. They also offer a Gluten Free crust if that is something you need or are looking for. Paisley Pig also has a great beer and wine list with lots of local options as well as Michigan based Breweries and Wineries. Paisley Pig also made our list of Top 10 Best Restaurants in Grand Haven list and you can read about them here.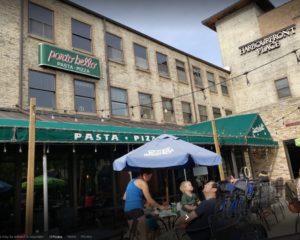 8.) Porto Bello's in downtown is another great option for pizza in Grand Haven. With a large dining area including a large outdoor seating area, it s great option for those wanting to dine in or sit outside and enjoy the wonderful Summer weather. They offer a couple signature pizzas including the Margarita pizza and the A.B.C. (Garlic pepper alfredo with artichokes, bacon, and chicken. Drizzled with balsamic) but also offer the customer a Build your own option. The Build your own option gives you lots of options like Pepperoni, Sausage, Meatballs, Ham, Mushrooms, Green Peppers, Onions, Black Olives, Green Olives, Tomatoes, Roasted Garlic, Pineapple, Anchovies, or extra cheese and premium options like Bacon, Chicken, Vodka Sauce, Artichokes. This is definitely the way to get exactly what you are looking for. Their proximity to Odd Side Ales who allows you to bring in your own food is also a great option if you are wanting to enjoy a brewery while in town but also looking for a great pizza to go with it. They will even deliver it to you right at Odd Side. Does it get any better than that? I'm not sure it does.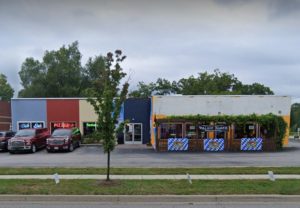 9.) Rounding out our Top 9 Pizza Places in Grand Haven is the Village Baker in Spring Lake. Part bakery, part Pizzeria, Part restaurant, and Full Time awesome, Village Baker is a local favorite for all things good. According to their website "Our pizzas are 12″ perfect circles with equal parts deliciousness and beauty; come and enjoy the best that West Michigan has to offer". Hard to argue that. With 14 pre-concocted pizzas to Build your own options with dozens of topping options, you will definitely find something that you really like. Options include Specialty Pizzas like the Breakfast Pizza consisting of Sausage Gravy as its base, Chorizo sausage, pepper jack cheese and four sunny side up eggs to more traditional choices like the Hawaiian or Mediterranean Pizza. Being a Bakery, you would expect an amazing crust, and you would certainly be right. It is oh so good. While you are here, we definitely suggest that you add some baked goods to your to go order. Might we suggest a loaf of their amazing bread, some scones, muffins and definitely a pretzel to go with it?
For great accommodations located directly across the street from Lake Michigan and the beach, visit Looking Glass Beachfront Inn or BOOK HERE! Looking Glass Beachfront Inn is located within 1 mile of most of the events and directly across the street from the beach with Amazing views of Lake Michigan. All the Top 9 Best Pizza Places in Grand Haven, MI are within 10 minutes of our location.