If you are like me, you love to go out to eat.  Especially on Vacation! The only thing that ruins that is not having a great meal. When on vacation, that is a top priority to a lot of people. To help out with that, we have compiled a list of the 10 best restaurants in Grand Haven and the surrounding area. Grab your knife and fork and lets dig into the list which is in no particular order. This list comes from personal experience, guest feedback, and online feedback.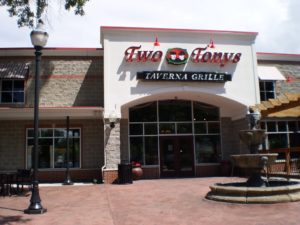 1.) Let's start with our personal favorite where restaurant we love to go for a date night, which is rare, but none the less. Two Tony's Italian Kitchen in Spring Lake, MI is a great place for that special occasion such as anniversaries, birthdays, or just a great night out.  This is our go-to for one main reason. Its fantastic! We have never had anything bad here and our favorites include the 10 layer lasagna, Spaghetti & Meatballs, Risotto, and Signature pizza. The famous house bread with feta spread or Italian Eggrolls are a great way to start the meal. If you are looking to have a drink,  they have a great drink list with good local beers on tap and a well rounded wine list. The ambiance is a bit more upscale but not overwhelmingly so. Nice dinner lighting and outdoor seating add to the overall feel and should appeal to most people. Outside seating is available on their front porch as well.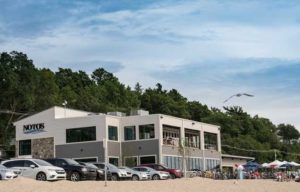 2.) Noto's at the Bil-Mar is the closest restaurant to our location and just an easy 1/3 mile walk along the beach. It is also the only restaurant in Grand Haven located on the beach and offers amazing views of Lake Michigan with an outdoor seating area right on the sand! This is a great place to watch the sunset with dinner or drinks. Noto's serves lots of food options ranging from pasta to steak to seafood including their well known Brick Oven pizzas. For the pizzas, try the #27 which was picked as Bobby Flay's #1 Pizza in Grand Rapids in a blind tasting. Other dinners we hear about all the time from our guests include Shrimp & Scallop pasta, Hazelnut encrusted Walleye, and Spaghetti Bolognese. The hardest part about eating at Noto's is making sure you save room for dessert since they have such great options. Their wonderful desserts include hand rolled Cannoli's, Cheesecake (my personal fav), Crème Brulé, and Tiramisu and I can tell you that there are no losers in this bunch.  Choosing just one is the hardest part.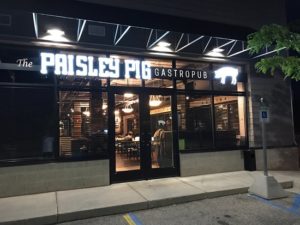 #3.) If you aren't sure what you are in the mood for but know you want something great, then Paisley Pig of Grand Haven is for you.  Paisley Pig is a farm to table style Gastropub. Although the name would suggest they are a Barbeque place, don't be fooled as they have about everything. And its all good. Don't get me wrong, the BBQ is great including the ribs and namesake sandwich, the Paisley Pig, but you won't be disappointed ordering non BBQ items. Some local favorites at Paisley Pig are the Meatloaf, Osso Bucco, Paisley Pig Mac with Ghost Pepper, and burgers. And locals will also tell you that the Artisan Pizzas are worth the trip as well. "I like pig butts and I cannot lie" and "West Philadephia Born & Raised" are a couple of guest favorites we would recommend. Paisley Pig also has a great beer and wine list with lots of local options as well as Michigan based Breweries and Wineries.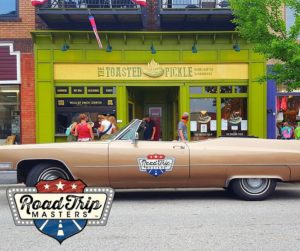 4.) The next place on our  list is something a bit more casual but no less tasty. We are talking about the Toasted Pickle and if you have been to Grand Haven, you have probably heard about it. If you are a big fan of the Food shows on TV, you have also may have heard about it since its been on Seaside Snacks & Shacks as well as recently on Road Trip Masters. This is your small town sandwich shop where everything is good and lots of things are great. They have a small inside eating area but are great for carryout or deliver to Odd Side Ales brewery if you are looking to have an adult beverage with your sandwich. Plus they will bring it right to your table at Odd Side. If not, we definitely recommend their flavored lemonades to go with the sandwich. As for sandwiches, they are all good but they are known for the Green Goddess, Nashville Hottie, and their Cuban. I am also am a fan of the Italian Bomber and recommend it. The pickle poppers (pickle fried in thin dough with pimento cheese) and the Truffle Fries are definitely the sides to add to your order. If you are looking for a quick sandwich, food at Odd Side or something to bring to the beach or park, this is the stop you need to make in Grand Haven!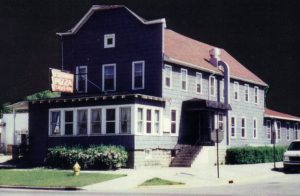 5.) The next one is not so much a place, but an entire industry. PIZZA! This one is too tough to pick just one place as there are so many good options in Grand Haven. So many in fact, that we wrote a whole Blog on the Top 9 Best Pizza Places in Grand Haven. The first we will mention is Fricanos Pizza Tavern and one of the most popular with the longest tradition. In fact, according to the website, "In 1949 the late Cosimo (Gus) Fricano, founded what is believed to be the first pizzeria in Michigan, Fricano's Pizza Tavern, in Grand Haven with the original thin crust pizza pie." Its thin, its crispy yet doughy, and its delicious. We have lots of guests that come to Grand Haven knowing a trip to Fricano's is on their list!
Other contenders for pizza include Mr. Scribs (who delivers to Looking Glass), Clover Bar, Two Tonys, Paisley Pig, K2 at Kirby, and Rustic Roots. You really can't go wrong with any of these and that is why Pizza is on the list. Click here to see the whole blog.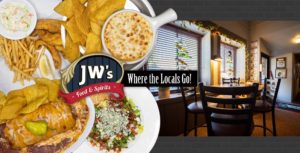 6.) Next on our list of Best Restaurants in Grand Haven is one that is very popular with locals. And for good Reason. JW's Food & Spirits is a great place in Grand Haven that has all kinds of different food and should appeal to everyone. They are very well known for their White Chicken Chili as well as their Perch dinner. Both are excellent and I should definitely mention that they also have a great burger. From the plain burger to the specialty (such as the Chimichurri Burger), you can't really go wrong. And since they have a great wine and beer shop next door, you better believe that beer and wine list is top notch! Local beers and wines and a mix of others from around the country and world as well. Talk to any local and they will probably mention JW's in that conversation. They do get pretty busy so it is recommended to get a reservation!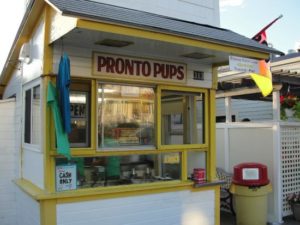 7.) The next on our is list is not so a much a restaurant as it is a stand. A corn dog stand! Pronto Pup. What do they sell? Corn Dogs (Pronto Pups more specifically) and pop (we are in Michigan so its pop and not soda.). That's about it. And there is no reason for anything else. They are warm, crispy, crunchy and delicious! If you are anywhere near the waterfront, you will definitely see people walking around with 1, 2, or 5 Pronto Pups splayed out in their hands like they are holding a bouquet of flowers. The price of entry for a Pronto Pup is $1.75, the line is long, and I suggest you get a few. This is what many people consider "that place you have to go" while in Grand Haven. Its been a staple in Grand Haven for over 75 years and you can see why once you've been here. So get in line, enjoy views of the channel and enjoy a part of history.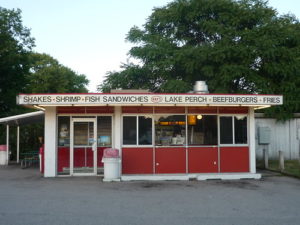 8.) Next up on our Best Restaurants in Grand Haven has been around since 1960. Ray's Drive In is all about the way things used to be. Small drive in style burgers, crinkle fries, lots of flavors of shakes and more. The place you go when you are feeling nostalgic or just want a good ol' fashioned burger, fries, and a shake. For me, its the Triple with Cheese Deluxe, Fries, and a Peanut Butter Shake. Total bill? Around $8. Hard to argue with that. Eat it in your car, take it to go, or take it to a park or beach. This is how it should be. Any other items that can be fried are also on the list and also delicious! Perch, Fish Sandwich, Shrimp, Onion Petals, and Deep Fried Pickles. Stop in to enjoy a throwback delicious meal!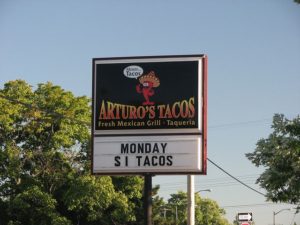 9.) Have a hankering for Mexican Food while in the Grand Haven area? Arturo's Tacos is a great stop to make to fill that need. They are a small place with lots of options. Tacos, Burritos, Tostadas, Enchiladas, Tortas, Taco Salads and more. The tacos can come in either Mexican or American style depending on how you like it. The burritos can be either large or huge using a 14″ tortilla jammed full of your favorite items. Options of meat include Steak/Carne Asada, Chicken/Pollo, Ground Beef/Picadillo, Marinated Pork/Al Pastor,  and Mexican Sausage/Chorizo. Fresh ingredients, homemade salsa and fresh flavors make this a great place to locals and tourists alike. They have a small dine in area but also make a great option to take and go. They do deliver as well and have a minimum spend for that. A good way to spend a meal and fill that craving for Mexican food. Don't be surprised if you love it!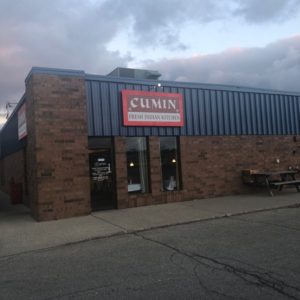 10.) Cumin Fresh India Kitchen is one that surprises people when in the area. Grand Haven is a small town with surprisingly good Ethnic Foods and a few have already made our Best restaurants in Grand Haven. Cumin is one of the best examples of that. Don't let the strip mall location and hard to find location fool you. The food is very good and people are usually shocked. Guests we have had that have eaten in were glad they went and seem to enjoy everything about Cumin. The food is fresh and they have the traditional Indian Cuisine and some of the more traditional ones as well. From Tandoor Specialties to Curry pots to traditional breads, they have a nice variety. I recommend getting a few different items and sharing with others to explore the different menu items. The flavored Naan they have are very good and make a great way to get all the sauce left on your bowl, because its so good, you will want to get it all.
Bonus #11.) A new comer to Grand Haven is the Unicorn Tavern. Unicorn Tavern is located on the east side of Grand Haven and is a family friendly Belgian-inspired tavern. From their amazing frites and croquets (fries and fancy tater tots for us Americans) to their Schnitzel and Burgers, its all delicious and a slight bit different than what we are used to. And that's a good thing. The Fish n Frites are cooked just right an taste just the way they should. The beer and drink list is expansive with a great selection of guess what? Belgian beers. Some hard to find Belgian beers bottled or on tap that will satisfy any beer snob (me included). But they have the regular stuff too if you aren't as adventurous with your drinks. Finish it all off with a Limoncello Cheesecake Brulee to complete an excellent meal. A great addition to dining in Grand Haven! You are sure to enjoy!
For great accommodations located directly across the street from Lake Michigan and the beach, visit Looking Glass Beachfront Inn or BOOK HERE! Looking Glass Beachfront Inn is located within 1 mile of most of the events and directly across the street from the beach with Amazing views of Lake Michigan.