If you are like me, you like to get outside and enjoy nature.  Grand Haven is a great place for nature and hiking trails. The tough part is finding the best places if you are new to an area or on vacation. Lucky for you, I will narrow down some of the top hikes and trails around Grand Haven, MI. As a B&B owner, I have talked with tons of guests over the years as well as done the hikes myself. That's how this list was compiled our list of the Best Hiking Trails around Grand Haven, MI. We also have a blog on best biking trails if you prefer biking. You can check that out here of 5 Great Bike Trails Around Grand Haven.
1.) One of our favorites hikes around Grand Haven if I am looking for a little bit of a workout is North Ottawa Dunes. It is set on 593 acres of wooded terrain and the highest dune is over 750 feet tall. Most of the trail is a single track that winds up and down through the forest. Not super populated, it allows for time to you and your thoughts while taking in the beautiful woods. There are some more open areas with dune grasses filling in the voids. This is a sand dune area so don't be surprised if you find a fully sandy area mixed in with the harder packed single track. The overall length is can be somewhere in the 3-4 miles depending on which loops you take. You can certainly do shorter if you would like as there are lots of breakout loops. The trail starts just off of Coast Guard Park which allows good space for parking. The trail is well marked at every junction with maps and distances to each spot. This helps you do as much or little as you would like to do.
2.) Our next favorite hike in Grand Haven is across the street from North Ottawa Dunes which makes it a great on to combine. Ottawa Sands is a 3.2 mile trail that loops an 80 acre lake surrounded with sand dunes. The lake is beautiful and does not allow boating or swimming keeping it clean and picturesque. Catch and release fishing is allowed from the shore at this point. Ottawa sands is a middle section and connects the Dune preserve with North Ottawa Dunes and completes a 2,000 acre and 6 mile stretch of coast dunes. There are migratory birds and recently has had eagles nests in the area. A great place to hike, observe nature and take in the beauty of the lake. 
3.) Next up on our list of the Best hikes & trails in Grand Haven, MI is the furthest south of the 3 connecting parks. Kitchel Lindquist Hartger Dune Preserve is just north of the Grand River the flows through Grand Haven. Consisting of 4 separate trails and making up around 2.5 miles if you do all of it. A unique think about this trail system is that you will go through 6 different ecosystems such as interdunal wetlands and pine plantations so it allows you to see different things depending on which part you are in. There is some good signage explaining the different ecosystems you are in as well so you might even learn something.  This allows for a large contrast in what you see and hike. You will also see views of Lake Michigan, the Grand River, and the downtown area of Grand Haven making this trail system one of the more unique ones around.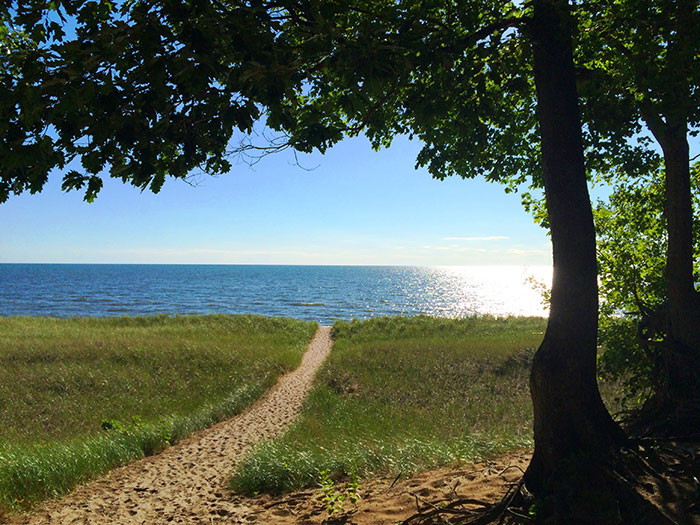 4.) Next up is a state park located miles of trail 10-15 minutes north of Grand Haven and on the south end of Muskegon. PJ Hoffmaster State Park is a great way to spend a day or half day to do some hiking and spend some time at the beach. There are 3 separate trails, campgrounds, and more here with the trail system comprising about 10 miles of trails. The state park has 3 miles of Lake Michigan frontage assuring you will get views of the lake on some of the trails. The Hoffmaster- Dune Overlook Trail is .50 miles long and gives views of Lake Michigan if time isn't on your side. Hoffmaster-Walk-a-Mile Trail is a little longer than the name suggests at 1.6 miles long and the longest of the 3 hikes is the Hoffmaster-homestead Trail at 2 miles long. None of these will disappoint and they do all connect with each other if you are feeling adventurous and want to tackle all 3.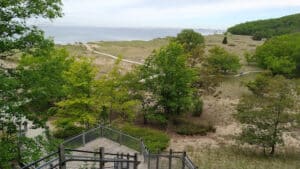 5.) Rosy Mound Natural Area is probably the most popular trails in the Grand Haven area and for good reason. It has great views, its accessible to downtown and its about a 2 mile loop so doable for a lot of people. Rosy Mound is about 4 miles south of downtown which makes it easy to get to. The trails include a few loops including tall pine tree rows, boardwalks through the dunes, fully wooded paths and a chance to go down to Lake Michigan. There are lots of stairs and 1,000 feet of them according to the county website. There are restrooms and shaded areas for people that hang out for the day. Its one of the best in the area and the beauty of the dunes and lake are definitely part of that reason.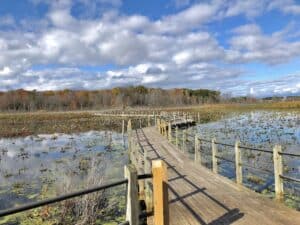 6.) Next on the list is an overlooked park that has 2 entrances. Hofma Preserve is in Grand Haven Township with entrances off of Ferris Ave as well as 168th. The park consists of 4.5 miles of trails that weave through the woods. 885 feet of the trail is on a floating bridge that goes over part of Pottawattomie Bayou which lends itself to lots of wildlife in and around the water. The entrance off of Ferris has a longer section of trails and takes longer to get to the floating bridge. If getting to the floating bridge is your goal, enter off of 168th and onto Sleeper Ave. There are also playgrounds at both entrances if you are with kids and want something additional for the kids to do. A beautiful park that doesn't hit a lot of radars but definitely worth checking out if you want a good stroll through the woods.