What's for Breakfast? That is one of the most common questions we get here and for good reasons. Looking Glass is a Bed & Breakfast and people love breakfast! The simple answer? It depends. Read on for more info.
We like to call our breakfast "Beach Casual". What does that mean you ask? Not too formal but definitely delicious! Flips flops are ok! We know people are here to hit the beach, visit the town, or go out and play so we do a buffet-style breakfast served at 9 am to get you going. We believe in great tasting food made with locally sourced ingredients where possible.  
Feedback from our guests is the reason for the 9 a.m. breakfst time.  Early risers can enjoy a cup of coffee on the deck or a morning beach walk and those choosing for a bit more sleep can enjoy that as well. One of the things that makes a B&B unique is breakfast around a big table to talk to the other guests from around the country or world in some caes. Breakfast can be enjoyed at our large communal table or weather permitting, on the front deck overlooking the Lake or the back deck overlooking the woods.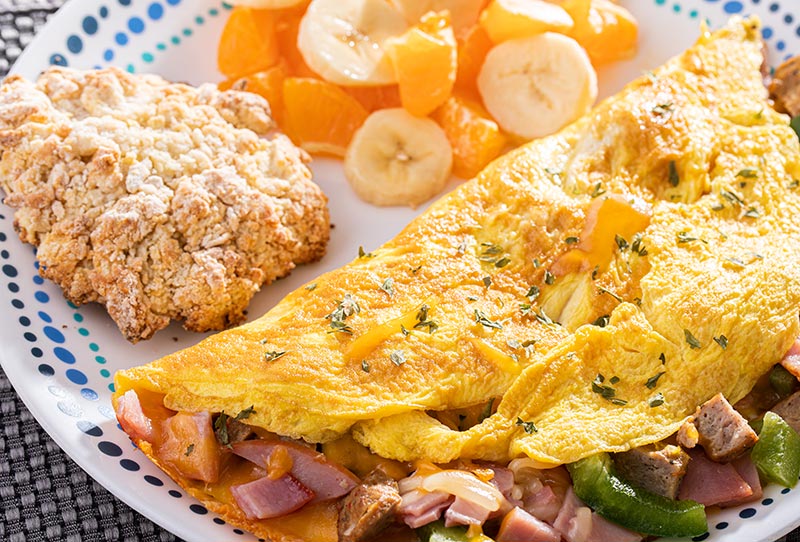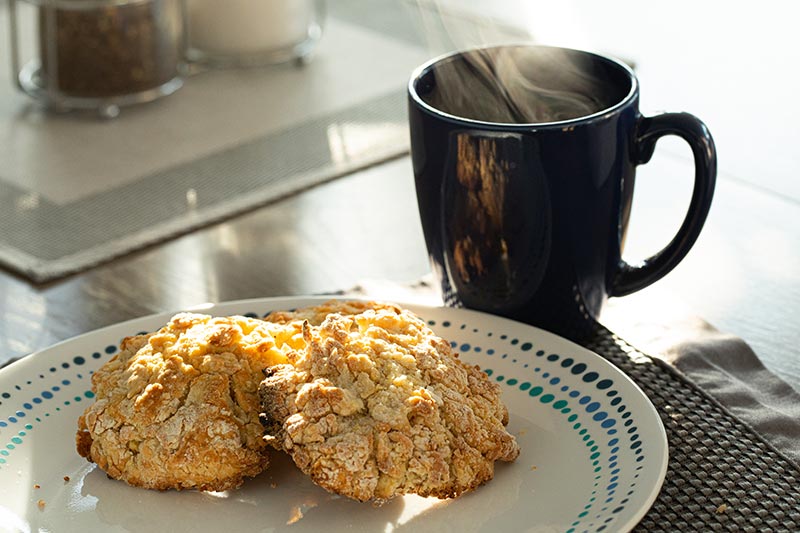 Breakfast varies daily and we have 15-20 different recipes we rotate through ranging from quiches to breakfast casseroles to breakfast strata. What we make varies depending on the season, weather, dietary needs, and amount of guests. We always have at least 1 hot dish  in addition to a variety of fruit, cereal, yogurt, instant oatmeal, pastries, and more. Beverages include juice, milk, milk alternative, coffee, and tea. We buy breads and meats locally to provide the freshest tastes.
Coffee fan? Don't worry, we have you covered. We are serious about coffee and serve locally roasted coffee ground daily through a burr grinder, then its brewed using filtered water, and stored in an airpot to keep it as hot as possible. For those that don't like their coffee black, we have numerous flavored creamers along with a few different flavors of coffee syrups. We also keep regular Half & Half on hand.  We like to say that even people who don't like coffee can probably make something they enjoy.
Coffee starts at 7:30 (earlier upon requiest) so no need to wait until breakfast to get your first cup. Come on down and grab a cup to sit on the deck and enjoy the view or back up to your room until you are ready. We even have to-go cups if you want to stroll the beach before coming back for breakfast.
Breakfast allergies or dietary restrictions? Vegetarian, vegan, and gluten-free options can also be prepared to meet the need of guests requiring special diets. Please let us know prior to your stay if you have a special diet, and we will make every effort to accommodate your request! Although we do our best, we do not have a separate kitchen or work space so it is possible that cross-contamination can occur. If you have a severe allergy or if you are in doubt, we do recommend bringing your own items. 
Some sample Hot dishes we have previously made include:
Fig, pancetta, and goat cheese casserole (trust us, it works)
Caramelized onions, ham and cheese Quiche (Classic quiche)
Biscuits & Gravy Casserole (Southern traditional dish)
Shirred Egg, Ham and Cheese (A Guest Favorite- maybe yours too)
Monte Cristo Breakfast Casserole (Our take on the sandwich)
Pina Colada Panckaes w/ Coconut Shreds (perfect by the water)
Mexican Chorizo Casserole (Our take on a Tex-Mex  style breakfast)
Made to Order Omelettes (Common when there are less guests)
Baked French Toast Casserole (Sweet and delicious)
Italian style Fritatta w/ spinach, tomatoes & mozzerella